Protect yourself from the latest cybersecurity attacks.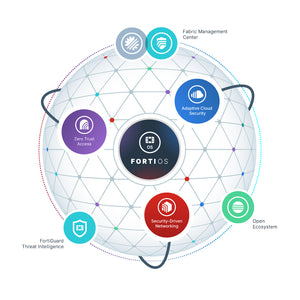 Fortinet's Security Fabric
FortiOS Powers the Industry's Highest-Performing Cybersecurity Platform
Protect yourself from the latest cybersecurity attacks.
Security Driven Networking
Adaptive Cloud Security
Security Operations
Zero Trust Access
Current state
As organizations accelerate their digital innovation initiatives, ensuring their security can keep up with today's complex and fast-evolving threat landscape is critical. The explosion of network edges – across data center, WAN, LAN, LTE, off-net, compute, operational technology, CASB, SASE, internet, and most recently, the home edge – has expanded and splintered the perimeter across the entire infrastructure.
The challenge with rapidly expanding the network edge is that many of the technologies needed to make things work don't work together. Much of the digital innovation progress has been piecemeal, without a unifying security strategy or framework. Most organizations have accumulated a wide variety of isolated security tools designed to protect a function or one segment of the network in isolation.
Vendor and solutions sprawl has made maintaining network-wide visibility and consistent policy enforcement next to impossible, let alone maintaining and monitoring the various security and networking solutions in place for delivering the expected high-performing user to application connection.
This approach can't scale, slowing business down, introducing more risk and complexity. It needs to evolve.
The Fortinet way
Fortinet addresses this challenge with the Fortinet Security Fabric, an integrated cybersecurity platform with a rich ecosystem designed to span the extended digital attack surface to enable broad, integrated, and automated security protecting devices, data, and applications.
The Fortinet Security Fabric does this by supporting more consumption models than any other solution, including physical, virtual, cloud, and as-a-Service environments. And it encompasses the industry's broadest ecosystem & product portfolio, spanning network security, SD-WAN, switching, and wireless access, network access control, authentication, public and private cloud security, endpoint security, and AI-driven advanced threat protection solutions – all built on a common operating system, FortiOS.
The Fabric enables the organization security posture to keep pace with networking and security changes by ensuring holistic visibility across the entire network, using advanced AI to correlate and analyze big data from distributed networking and security devices at cloud scale to detect threats better, and leveraging all connected systems to launch a real-time coordinated response to cyberattacks.
The Fortinet Security Fabric is the industry's highest-performing cybersecurity platform, powered by FortiOS to enable consistent and flexible security across the entire attack surface and cycle, empowering organizations of any size to secure and simplify their IT infrastructure on the journey to digital innovation.
Contact the JK Team today to find out more on how to safeguard your organisation.