Apple Device Enrolment
Apple devices are as easy to deploy as they are to use.
Apple has built powerful tools specifically for schools to support administrators with deployment, help teachers with classroom workflows and personalise learning for every student.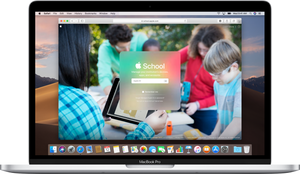 Apple School Manager is a simple, web-based portal that lets IT administrators deploy iPad and Mac in schools. You can easily provide students and staff with access to Apple services, set up devices, get apps and books, and enable teachers with tools to create engaging learning experiences — all from one place.
And now with Microsoft Azure Active Directory support, it's easier than ever to integrate iPad and Mac into your existing environment and provide your students and staff with access to key Apple services for teaching and learning. With access to iCloud Drive, iCloud Photos, iCloud Backup, Schoolwork and Shared iPad, teachers and students can access learning materials and the work they've created on any device. Learn more at apple.com/education/it.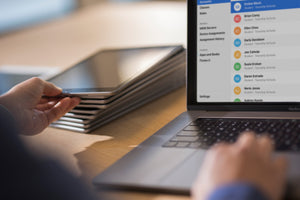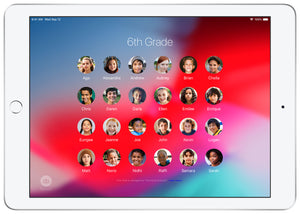 Shared iPad
Shared iPad enables multiple students to use the same iPad while ensuring a personal learning experience and keeping each student's data separate and secure.
Classroom
Classroom lets teachers manage classroom iPad devices. They can open apps and links to guide students through a lesson, send and receive documents with everyone in the class, and view iPad screens to keep an eye on student work.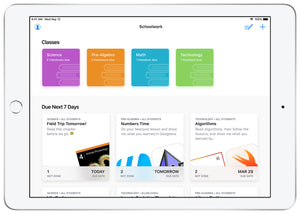 Schoolwork
Schoolwork enables teachers to share and receive instructional materials, review student progress, provide instant feedback and personalise instruction. Students have one place to see assignments, submit their work and see their progress. Learn more at apple.com/education/teaching-tools.
Custom Apps
Custom apps are iPhone, iPad, iPod touch, or Apple TV apps developed to meet your institution's specific business needs by you or a third-party developer. They're distributed privately and securely to members of your institution through Apple School Manager. Your developers submit Custom apps through App Store Connect and assign the apps to your Apple School Manager account. Once approved, they're available to your institution, so that only you can view and access them.
Custom apps allow you to leverage the scale and ease of use of the App Store while also providing:
Security features for sensitive or private school data
A tailored look and feel, such as your school logo or branding
Unique features for teachers and students within your institution
Specific functionality for a class or workflow
Special configuration for IT environments
Device Enrolment Reseller ID
C6D787