Apple Device Enrolment
Simple to deploy. At any scale.
Whether you have 10 devices or 10,000, it's easier than ever to integrate, manage, deploy and secure your Apple devices. With Apple Business Manager, devices can be distributed directly to employees and used straight out of the box — all without manual configuration.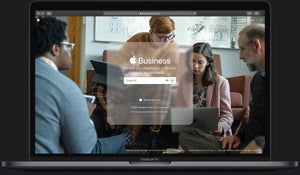 Apple Business Manager is a web-based portal helping IT administrators deploy iPhone, iPad, Mac and Apple TV. They can easily provide employees with access to Apple services, set up device enrolment and distribute apps, books and custom apps — all from one place.
And Apple Business Manager integrates using federated authentication with Microsoft Azure Active Directory (AD) so you can quickly create employee accounts with Managed Apple IDs. Learn more at apple.com/business/it.
Devices
Enrol devices to be set up automatically with MDM. Streamline and customise the setup process for employees.
Content
Easily buy apps and books for employees. And now distribute custom apps within your organisation.
People
Create Managed Apple IDs for employees and assign privileges for additional users on your IT team.
Flexible deployment options for every scenario.
Apple makes it easy to choose the right deployment option to meet the needs of your organisation. Protect company information while maintaining privacy for employees who bring their own device to work with User Enrolment. IT can establish a higher level of control on organisation-owned devices with supervision and Device Enrolment.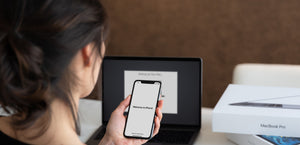 Manage with ease.
All Apple devices have a built-in, secure management framework enabling IT to configure settings, manage devices and set up security features remotely over the air. IT can easily create profiles to ensure employees have everything they need to be secure and productive. Apple devices enable IT to manage with a light touch without having to lock down features or disable functionality and still keep company data protected.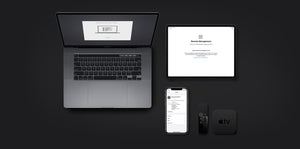 Simplified access to corporate data and services.
iOS, iPadOS and macOS make it easier than ever for IT to integrate with your organisation's directory service or cloud identity provider. IT can now link Apple Business Manager to Microsoft Azure Active Directory, making it seamless for employees to access Apple services with a Managed Apple ID.
Content distribution made incredibly simple.
Apple Business Manager makes it easy to find, buy and distribute content in volume to meet your every business need. Purchase any app available on the App Store or use custom apps built specifically for your business internally or by third-party developers. And when apps are distributed through MDM, IT won't need to use redemption codes or Apple IDs to get content onto each device.
Secure by design. Enforced by IT.
Once devices are set up, IT can manage and protect corporate data thanks to built-in security features and additional controls made available through MDM. Common frameworks across apps enable configuration and ongoing management of settings.
Device Enrolment Reseller ID
C6D7870