Smart Technology for All.
Discover Lenovo's business focused product solutions.
JK Technology is a Platinum PC Partner of Lenovo. An authorised reseller of Lenovo' full range products, and ThinkPad service centre in Singapore. Find out the suitable products or services for your business with JK Tech's team today.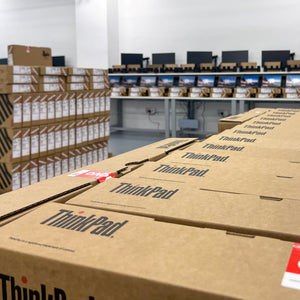 Relentless innovation
Every time business has gone somewhere new, discovered something different, or done something revolutionary, chances are, ThinkPad was there. Lenovo stem from a long tradition of firsts. ThinkPad systems are engineered for durability. We know your business depends on your PC to keep you going. So every ThinkPad is made to endure.
Lenovo X1 Carbon
X1 Carbon features a carbon-fiber reinforced chassis and passes durability tests in extreme environments. Plus, it delivers more than all-day battery life, includes faster, more powerful storage performance, and has innovative docking options available, including wireless.
Lenovo T Series
Built to perform and engineered to endure, our flagship laptops have you covered in the office, out in the field, and everywhere in between. Productivity-rich features like epic battery life, blazing-fast USB –C Thunderbolt® ports, and powerful processing to keep you up and running.
Lenovo L Series
From powerful Intel® processing to AMD Radeon™ graphics, the ThinkPad L series laptops delivers great performance in an entry-level system. Blazing-fast WiFi gets you online quickly—and the optional WWAN keeps you there even if WiFi is out of range. Plus, time-saving one-touch calling adds convenience to your workday.
Lenovo E Series
ThinkPad E series can run seamlessly all day—ideal for on-the-go professionals. As well as built-in security and reliability. It comes with a superb display and exceptional audio, plus a host of options, including dual-drive storage, discrete graphics, and wide-screen IPS technology.
Workstations for your business
Premium Performance
An SME or the IT department of a massive enterprise, you can have confidence in these desktop PCs' reliability, ease of use and productivity. Discover from multiple form factors, features, then let these tools of business do the rest.
Lenovo Small Form Factor
Dependable and productive, M Series small form factors are industry-leading business machines are also stable, manageable, & compact, making them the perfect solution for any corporate rollout.
Lenovo Tiny
Tiny desktops provide big-business performance with impressive processing power and 15 months of platform stability — all while remaining energy-efficient and saving you space.
Lenovo Tower
Dependable and productive, M Series Towers are a boon to any IT team. These industry-leading business machines are also stable and manageable, making them the perfect solution for any corporate rollout.
Lenovo All-in-One
Lenovo all-in-one line features the latest technology in a wide spectrum of smartly engineered design – from elegant all-in-one systems.

Desktops to improve your business productivity
Performance Monitors for Your Business Needs
Discover full ThinkVision range that that are designed with modern workforce requirements in mind, boost productivity with clear visions. Speak to our experts to see which best suit your business needs.

Superior Reliability & Performance
ThinkStation Series workstations deliver powerful performance to handle whatever jobs you need to accomplish: from the P620 with its game-changing AMD Ryzen™ Threadripper PRO to the latest generation of Intel® Xeon® processors combined with NVIDIA® Quadro® RTX professional graphics, in dual- and single-processor systems. Independent software vendor (ISV) certified, energy-efficient, and highly versatile, our ThinkStations feature the superior reliability you expect from Think.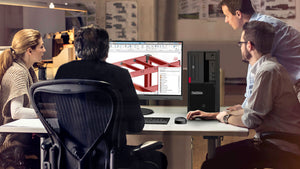 Lenovo ThinkSystem is for small businesses up to large enterprises that need industry-leading reliability, management, and security, as well as maximizing performance and flexibility for future growth. The servers are designed to handle a wide range of workloads, such as databases, virtualization and cloud computing, virtual desktop infrastructure (VDI), enterprise applications, collaboration/email, and business analytics and big data.